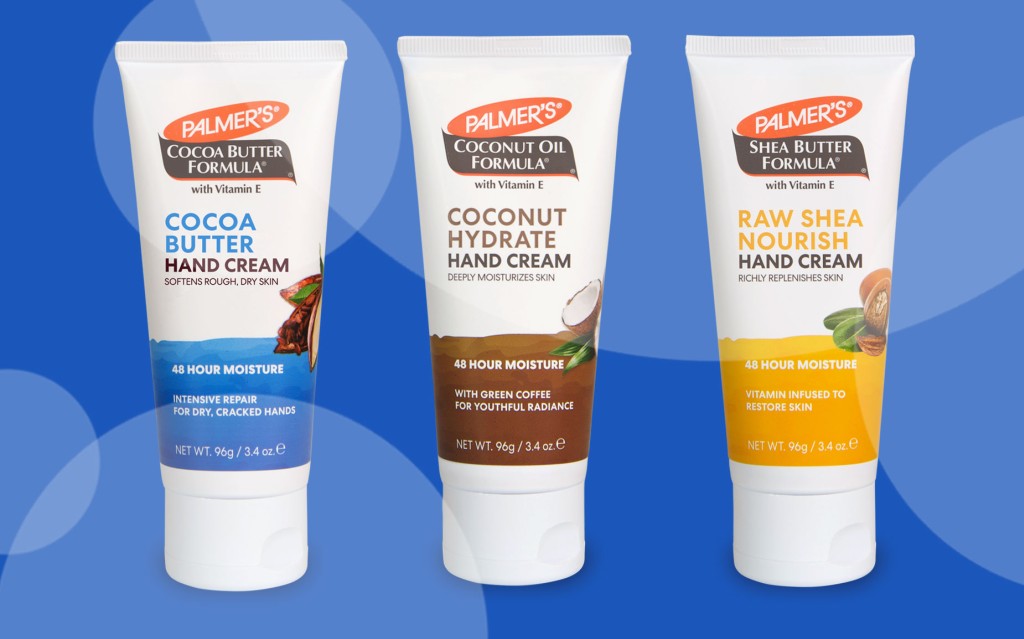 Introducing Palmer's New Look Hand Creams
Palmer's iconic hand creams have had a little refresh, while still being the perfect size to keep on your desk, in your handbag or in the car!
- New look packaging ✔️
- Now with 48-hour moisture ✔️
- A bigger 96g tube ✔️
Not sure which formula is right for you? See below for the lowdown on each…
Softens and smoothes dry, damaged hands.
A rich, thick and non-greasy cream specially formulated with Cocoa Butter - a rich, nutrient-packed super ingredient loaded with Cocoa Mass Polyphenols, for deep hydration & moisture barrier protection.
Packed with powerful ingredients to help repair overused, moisture-starved hands.
Helps keep hands soft and more youthful.
This luxuriously rich cream is specially formulated with Extra Virgin Coconut Oil - rich in fatty acids and proteins for superior hydration, as well as the new addition of Green Coffee Extract, loaded with polyphenols and antioxidants to keep hands looking youthful.
Packed with ingredients to improve resistance to dry & cracking hands, while leaving them with the delicious lingering scent of coconut.
Replenishes raw, dry or sensitive hands.
An emollient rich cream, specially formulated with vitamin-enriched Shea Butter which penetrates deep into the skin, while improving elasticity, and providing anti-inflammatory benefits.

Packed with ingredients to combat even the driest and sensitive of hands, leaving them feeling both soothed and nourished.
Any of our three hand creams will give your hands ultimate hydration, but the formula you choose is up to you!
---