LAUNCH OFFER! BONUS SHOWER CAP WITH ANY COCOA BUTTER HAIR PURCHASE! Select Region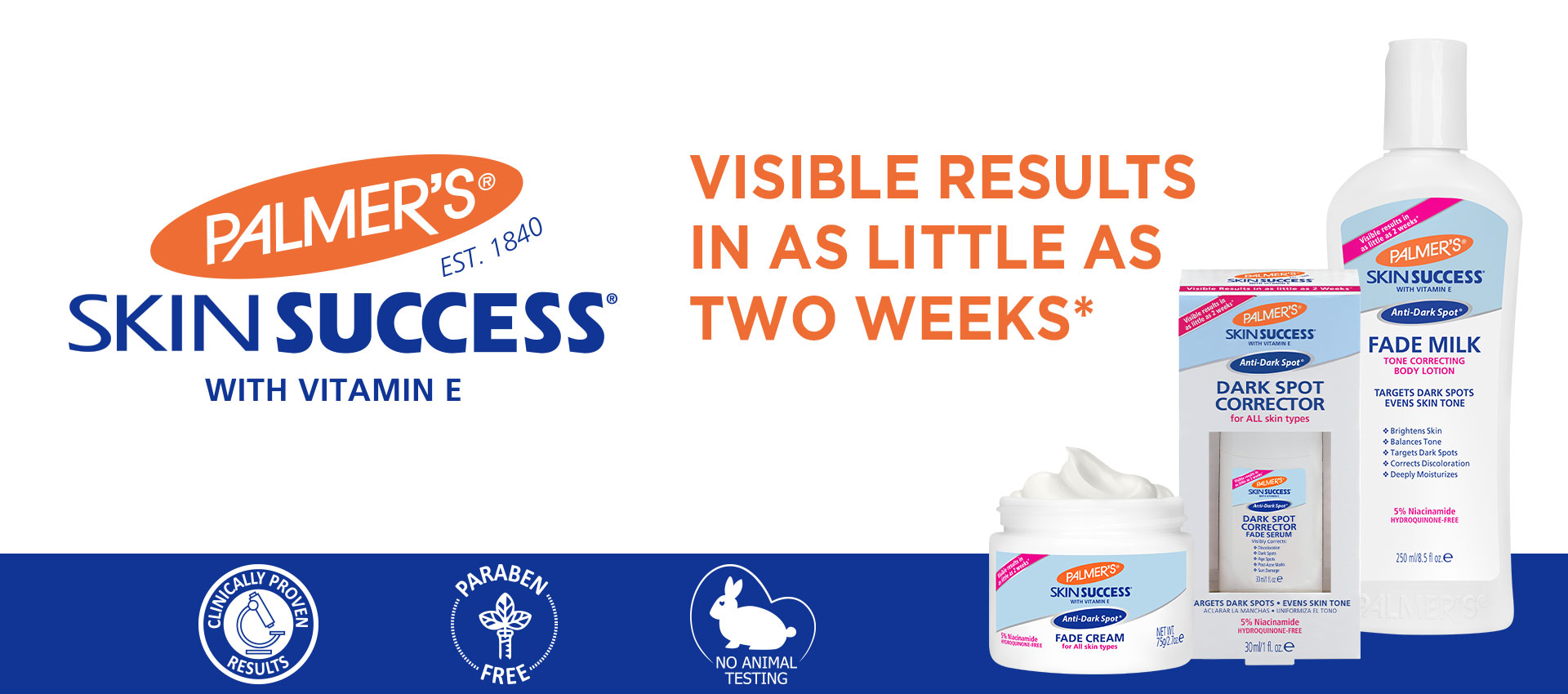 Highly Effective Formulas to
Visibly Improve the Appearance of:
Dark Spots
Discolouration
Post Acne Marks
Uneven Skin Tone
Visible Results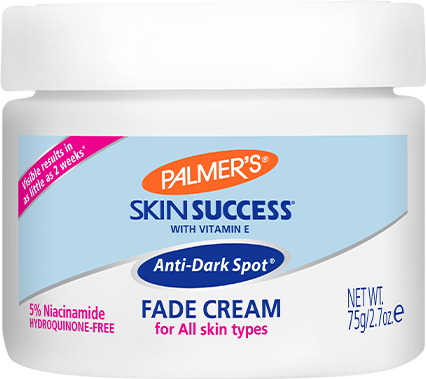 | % OF WOMEN WHO SAW IMPROVEMENT** | 4 WEEKS | 8 WEEKS |
| --- | --- | --- |
| Visibly Improved Discolouration | 91% | 100% |
| Reduced Appearance of Age Spots | 83% | 98% |
| Helped Lighten Dark Spots | 97% | 100% |
| Improved Clarity | 100% | 100% |
| Brighter, More Radiant Skin | 90% | 98% |
**Based on a 200 person independent clinical study.

| % OF WOMEN WHO SAW IMPROVEMENT** | 4 WEEKS | 8 WEEKS |
| --- | --- | --- |
| Balanced Skin Tone | 98% | 100% |
| Visibly Improved Discolouration Uneven Skin Tone | 98% | 100% |
| Enhanced Radiance & Glow | 100% | 100% |
| Helped Lighten Acne Scars & Dark Spots | 74% | 96% |
| Reduced Blotchiness | 76% | 94% |
| Improved Clarity | 74% | 96% |
| Youthful, Healthier Looking Skin | 90% | 98% |
*May take up to 6 weeks. **Based on a 100 person independent clinical study.
HIGH PERFORMANCE SKIN CARE INGREDIENTS
5% Niacinamide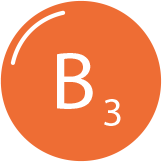 Niacinamide, Vitamin B3, is the ultimate multitasker ingredient that helps fortify skin's barrier against moisture lost, helps protect against environmental stressors and visibly improves dull, uneven complexion.
Retinol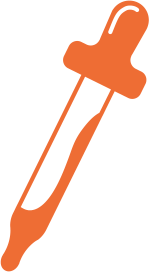 A derivative of vitamin A, this powerhouse ingredient provides multiple anti-aging benefits such as:
Improving fine lines
Visibly smoothing skin texture
Encouraging exfoliation to help
even out discolouration
Vitamin C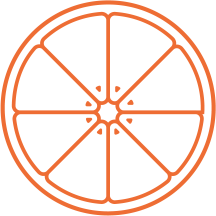 Ascorbyl Palmitate, is a naturally occurring antioxidant obtained from citrus fruits and leafy green vegetables that helps to support exfoliation, improving the appearance of existing discolouration.
Japanese Songyi Mushroom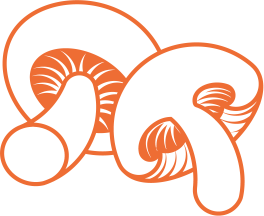 Found beneath the red pine trees of Japan the Songyi Mushroom (Tricholoma Matsutake) is widely used in cosmetic products throughout Asia due to its naturally effective brightening properties.
SKIN SUCCESS FADE CREAM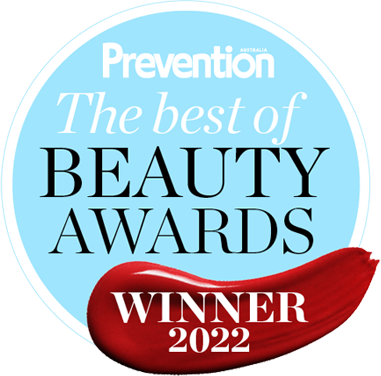 BEST SPOT FADING CREAM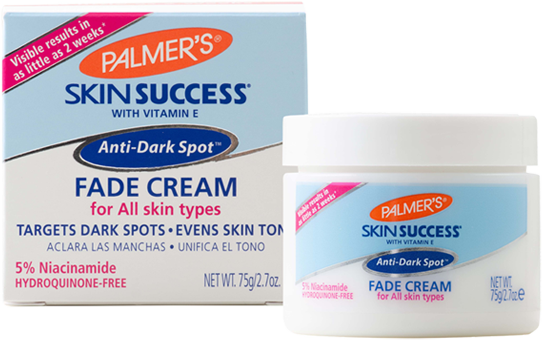 MONEY BACK GUARANTEE*
HOW TO USE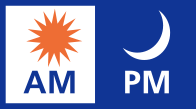 REGIMEN FOR ALL SKIN TYPES, INCLUDING ACNE-PRONE SKIN
STEP 1 CLEANSE
Dark Spot
Correcting Cleanser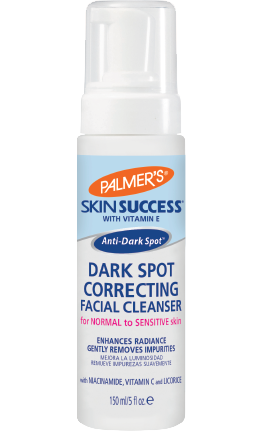 STEP 2 TREAT
Fade Cream
For All Skin Types and
Dark Spot Corrector
(for concentrated benefits)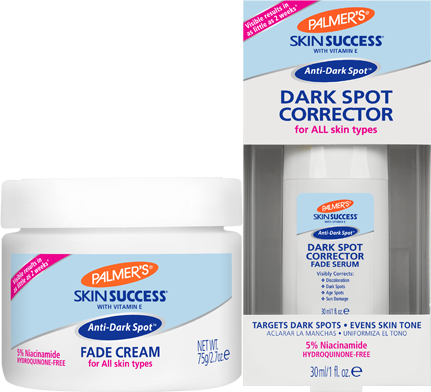 STEP 3: BODY
Fade Milk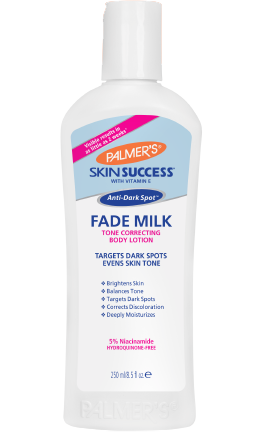 FAQ's
What is discolouration or dark spots?
Skin discolouration, dark spots or hyperpigmentation occurs when the skin produces too much melanin in a concentrated area.

It can appear as a small dark spot, post-acne mark, sun or age spot.
What causes dark spots and uneven skin tone?
Many factors can contribute to this unwanted darkening. Among the most common causes are:

Sun exposure: can cause anything from freckles to large brownish patches.

Aging: commonly causes brown spots also known as liver spots or age spots on the face, body and hands.

Pregnancy: causes a condition known as Melasma

Scarring: previous acne or injury to the skin even when healed may leave a dark mark or spot on the skin.
How do Palmer's Skin Success products work?
Palmer's Skin Success products use a unique 3-in-1 technology combined with an effective blend of ingredients which all work in synergy to break down concentrated hyperpigmented areas, remove discoloured surface cells & inhibit uneven pigment from developing.
How long will it take to see results?
Palmer's Skin Success products gradually fade unwanted spots. Results may be visible in as little as 2 weeks, with best results appearing after 4-8 weeks of consistent treatment*. Please be aware that skin is being treated with retinol and can be extra sensitive to the sun. Because of this, Palmer's recommends the daily use of a sunscreen with an SPF (sun protection factor) to prevent future discolouration.
Are the formulas safe?
Palmer's Skin Success Fade products are dermatologist tested and free from Hydroquinone, Parabens, Phthalates and Dyes.

Palmer's Skin Success products contain Retinol so the use of a daily sunscreen is recommended. Pregnant women should avoid using any products containing Retinol during their pregnancy or breastfeeding.

Before starting any new skin care regimen if you have any additional concerns, please consult your doctor.